We all know January is the month for new beginnings, start-ups, resolutions and making them happen. But before embracing 2019, let's give some credits to 2018. We tend to say that "this year I will do much better", however, every year contributes to our growth and we wouldn't have become what we are today without 2018. SkyPrivate sure made the best out of it. And we have these dates to remind us that with each year we are becoming better, bigger and stronger.
Is been a year full of events and fun which are time framed in the graph below. We attended over 20 events dedicated to our industry where we bound with our partners and made new friends and connections. But with all the fun we also succeed big milestones for our company:
January – WhaleHunter.cash Launch – We started the year with a big step, launching our affiliate program WhaleHunter.cash which will bring a huge growth for our SkyPrivate traffic. In less than 3 months we managed to have a base of 250+ affiliates with a single purpose, to bring quality traffic to our website.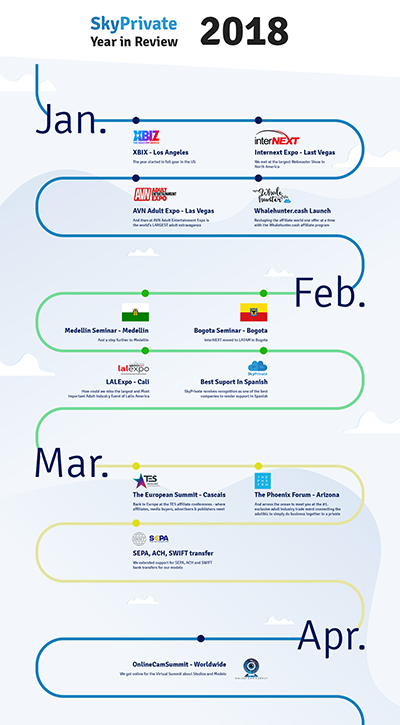 May – Quality Department launch – Because satisfaction is our top priority. While our community was growing in a month like others in a year, we realized we need to put quality over quantity so we decided to have a dedicated department to make sure all our accounts respect the rules and provide the best services.
August – Support team reaches 10+ members – And we couldn't be prouder! Because we know how important it is to provide good support in a fast manner, we dedicated our attention to bring support experience to the next level. Thanks to this big step now we provide 24/7 customer support in English, Spanish and Russian via live chat, e-mail, Skype,Twitter, and Discord.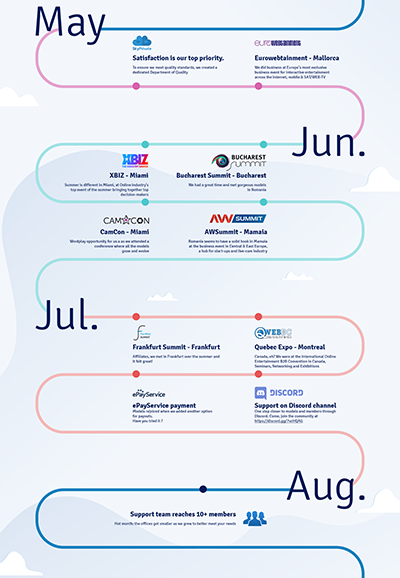 November –  OurLittleSecret.co launch – Our family got bigger not just with our team but also by launching a new product dedicated to cam models. OurLittleSecret.co is the first WhatsApp Sexting platform where you get paid for each text received and also for any photo/video received or sent at your discretion. And the best part, your number stays confidential.
December – New Features – Receive tips and sell videos – And we kept the best for the end. We ended 2018 with new amazing features to make your work generate more money! Now models can receive tips during any SkyPrivate session to spice up the show and when they are offline, they can make extra money with our new feature – Sell your videos!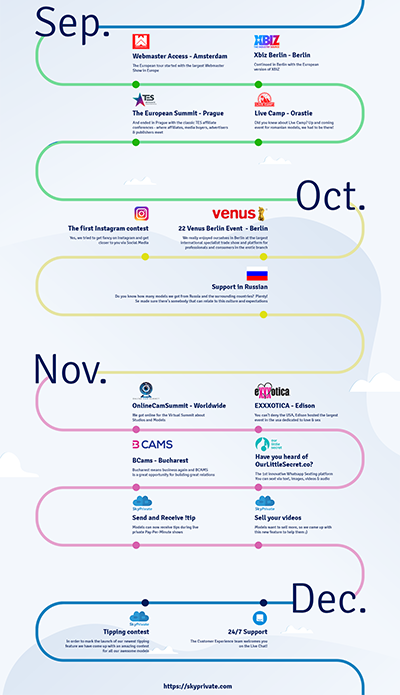 And last, but the most important one, we had you join our big community and we thank you for that.
Now let's make 2019 be even more awesome!!!
http://blog.skyprivate.com/wp-content/uploads/2017/03/skyprivate-pay-per-minute-for-skype-and-phone-4.png
0
0
Ana Our Little Secret
http://blog.skyprivate.com/wp-content/uploads/2017/03/skyprivate-pay-per-minute-for-skype-and-phone-4.png
Ana Our Little Secret
2019-01-15 12:00:23
2019-01-17 18:47:14
SkyPrivate 2018 Timeline - A year of fun and accomplishments