We are sure your ideal cam girl is on SkyPrivate so, if you haven't found her yet, we are going to show you:
How to search for a specific cam girl

How to use filters to watch relevant live cam shows

Types of special live cam shows available on SkyPrivate.
Even without a SkyPrivate account, you can still search among thousands of cam girls available on our website. This way, you can figure out if there are any cam girls to your liking.  For a more refined search, we recommend you use filters. However, even if you can find the cam girl that you want without a SkyPrivate account, you won't be able to see her Skype ID or contact her unless you set up your member account!
How to search for cam girls on SkyPrivate to watch the best live cam shows
If you already know who you are looking for, one of the easiest ways to find a cam girl on SkyPrivate is to use the search option available on the profiles page. All you have to do is click the magnifier icon and write her name or Skype ID.

Even if you don't know her exact name or Skype ID, you can still search using what you remember. Then, on the results page, you will be presented with cam girls that share a similar name.
How to use filter options on SkyPrivate
This option is better suited for you if you are not looking for someone in particular, but you know what kind of cam show you want. The filters on SkyPrivate allow you to make various selections to refine the results and to choose the right cam girl for you.
The first filter you will see is the model's gender where you can choose from women, men, couples, and trans. If you don't have something specific in mind, you can select more than one category, or you can skip it entirely.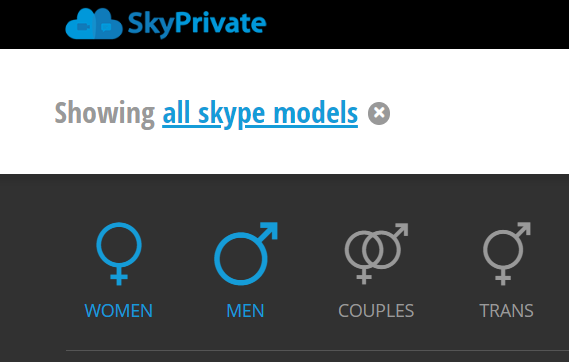 Another important filter is the cam girl's age: some of you prefer young women and some of you prefer mature women. Whatever your preference is, you can filter cam girls based on their age by clicking and dragging any of the handles.

We truly believe that anyone should be able to enjoy private shows, no matter their budget. That's why we implemented a price per minute filter that you can use to refine the search according to how much you are willing to spend. You can move the handles from both ends if you want to search for cam girls with rates between $3 and $7 for example.

If you're the type who wants to see the cam girl before booking her, we think you would really enjoy the videos filter. When you switch it on, the results will only contain profiles of cam girls who have uploaded videos of themselves. Usually, these videos are cuts from other private shows so you can see what you'll be getting.
If you're in a hurry, you'll probably want to search only among cam girls who are available right then and there. So that's why we have also added an online button that you can turn on.

We know how frustrating it is when the cam girl doesn't understand your requests and that's why we have implemented a language filter that you can use to search for cam girls who speak German, English, French, or Spanish.
Last but not least, if your ideal cam girl needs to have certain characteristics (blonde hair, muscular body, big boobs, etc.), you can also refine your search by using these keywords.

SkyPrivate Special Shows
Some people like vanilla sex while others go for BDSM. No matter what type of show you want to enjoy, there's something for everyone on SkyPrivate. As you can see in the picture above, you can choose from different categories, including girlfriend experience or non-adult. When you click on any of these options, you will only see the cam girls in that category.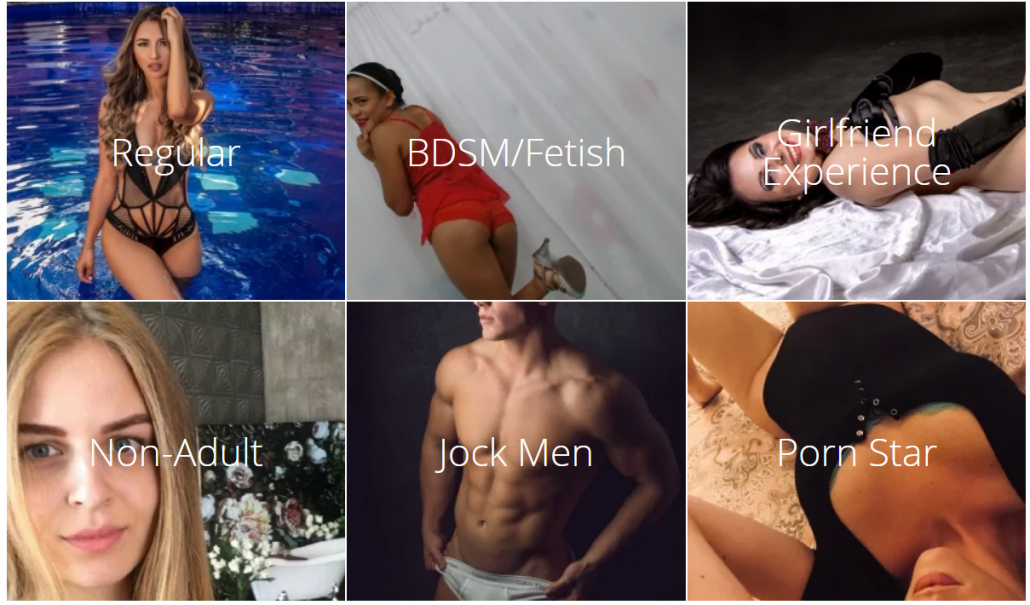 From the beginning to the end: how to find your ideal cam girl on SkyPrivate
Let's say your ideal cam girl is blonde, tall, speaks English, is 26 years old, and likes roleplay. First off, you should click on the women icon to select the gender. Next, select the age by dragging both ends of the handle. After that, add the keywords: blonde, tall, and roleplay. Select English, and filter the results.
New filter options coming soon
We know that our search feature is not perfect yet and some of you have sent us filter suggestions that we should add. We value your feedback and we want you to know that we're working to bring you those filters ASAP. Some of the filters we will be adding soon are ethnicity, location, experience level, and rating. Got any other suggestions for us? Please tell us what other filter options you want us to add! With your help, we can improve and add more features in the future!
https://blog.skyprivate.com/wp-content/uploads/2018/11/specific-options.png
367
1218
Gabriela Tailor
http://blog.skyprivate.com/wp-content/uploads/2017/03/skyprivate-pay-per-minute-for-skype-and-phone-4.png
Gabriela Tailor
2018-11-28 13:01:14
2018-11-28 13:01:14
Live Cam shows: How to find the right cam girl using filter options