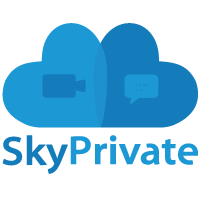 As a cam model, you probably find yourself struggling to make your profile get as much exposure as possible. That's why it's really important that your profile ranks as higher as possible because that's how you attract new customers (who, hopefully, will turn into regulars or even whales).
Think about it this way: let's say you are in the market for some new sex toys. You'll either go directly to your favorite shop or do your research on Google to see what's new or trending right now. When you are googling, how often do you find yourself get past the first page of results? The same applies to your SkyPrivate profile: the lower it ranks, the harder will be for you to attract customers.
But there's no need for you to get discouraged because we have some tips that will help you rank higher. Curious? Let's begin!
1. Create a tasty SkyPrivate profile
It might seem like an obvious step, but we see lots of model profiles that are missing information. Of course, attractive pictures and videos are also important but, when a customer doesn't know anything about you, having an ample description where you talk about yourself, describing your personality or the persona you are trying to portray as a cam model, can help your customers get to know you better. It's all about connecting with your customers.
At this point, it would also be nice to mention other SkyPrivate products that you use like OurLittleSecret, Unblur, or Membershyp, so your fans know where they can find you.  
Then, you can go ahead and talk about what you like to do, what you can offer, and what your rules and limits are. And since we're here, you should also know that checking off all the tags when you are completing your profile won't help you get more exposure either. So just check the ones that apply to you.
Here's an example of an ample description: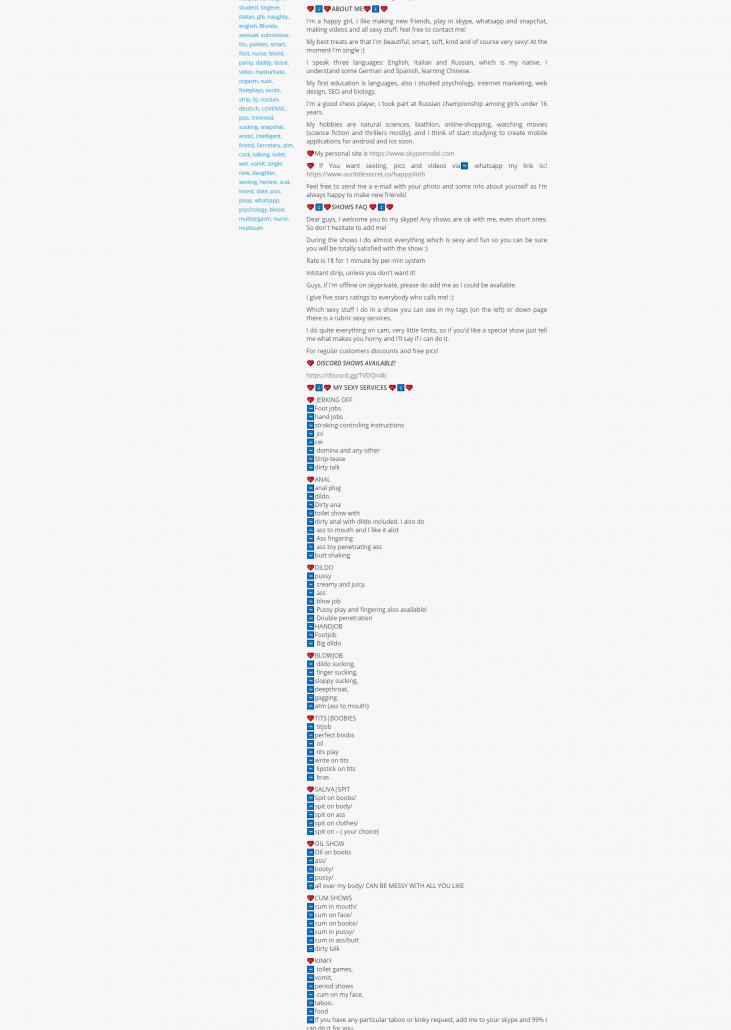 One more thing that you should keep in mind is always making sure the data you provide matches your profile and that you also update your profile regularly. A short and unkept profile won't attract any clients.
Tip: If you bring a member from another site and only have private shows with him, then you don't necessarily need to have an attractive profile (but who doesn't want to have more members?). But, you should always use a referral link! This way you can earn an extra 6% every time he comes back. If you want to learn how to increase your SkyPrivate withdrawal percentage up to 86%, check out our tutorial.
2. Update your pictures as often as you can
As we've previously mentioned, having high-quality images on your profile is important if you want to rank higher. However, this doesn't mean that you shouldn't upload more personal/real feel photos like selfies. We strongly encourage you to do this as well because members are in search of a connection with a real person. But pay close attention to your profile picture and avatar video especially, since those are the first things members see and they can make a difference on whether they even check out your profile or not. You can experiment with different pictures/videos to see which one works best for you.
We recommend flaunting your best features: smiling and showcasing your boobs, or your ass. But bear in mind that it's important to show members how cute you are as well.
As for the rest of the media, it's up to you to personalize it however you want. Just make sure you keep the content fresh. Periodically changing things a little bit will keep members interested.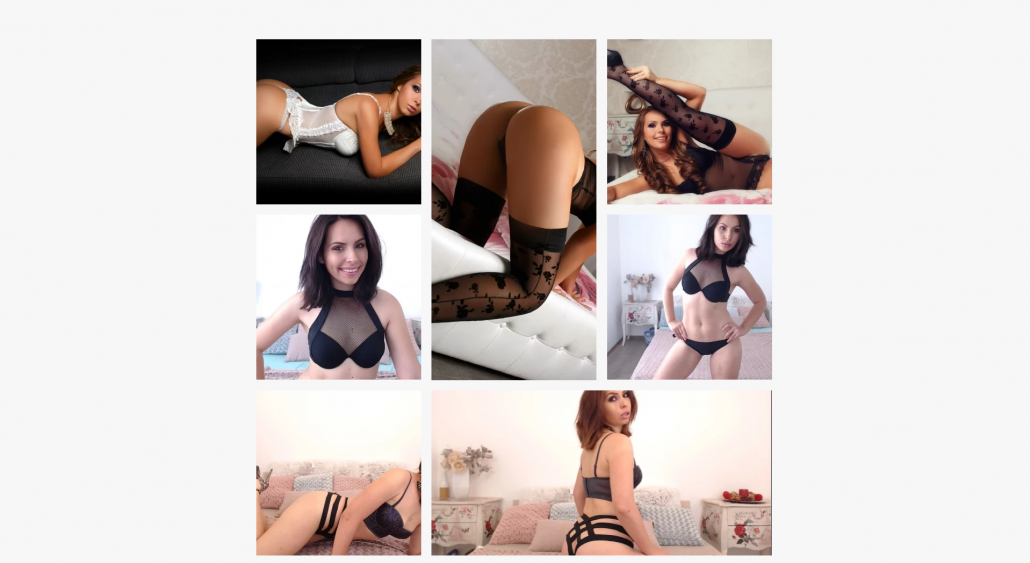 One thing you should remember is always making sure your videos are available! On SkyPrivate, you have the option to import videos from Twitter. Sometimes, Twitter will delete your videos, which means they will become unavailable on SkyPrivate as well. Having unavailable videos on your profile will do you no good, so make sure you check them out regularly.
Another important aspect you should keep in mind is making sure your current look is reflected in your profile; otherwise, members could report your profile. Changed your hair color? Got some work done on yourself? Make sure you celebrate this with a fresh set of photos and videos. Because why not? Name a person in this world who doesn't like to be appreciated and admired by people.
3. Fill in your schedule and watch out for SkyPrivate show bookings
Your work doesn't stop once you've managed to attract some members to your profile. No. Besides an ample description of yourself, you should also include your schedule to let members know when you are available. Our numbers show that high-earning SkyPrivate models get most of their bucks from recurring customers who book them again and again. The key point to remember here is to make sure you respond to their messages as fast as possible – no one likes to wait hours to get a reply, especially if they want to schedule a private show with you the same day.
It would also be nice to send members a message on Skype to remind them they have scheduled a private show with you and to ask them if they're ready (especially if they booked you quite some time in advance). But remember to always be logged in with your SkyPrivate plugin, so they know it's really you and not some fake account. Make sure you always show up on time! If, for some reason, you are unable to host the show, make sure you let them know in advance. This will go a long way in ensuring you have a good ranking.  
4. Stay online and wait for members to get in touch with you on SkyPrivate
The SkyPrivate plugin is very easy to use on the side. But to rank higher, it also helps if you're spending as much time as you can on the platform. That's because you never know when a member is going to approach you and you have to be responsive. But that doesn't mean that you should just sit around doing nothing, waiting for members to show up – got some cleaning to do? How about you put on a sexy maid outfit and do your chores on camera? Feel like reading a book? You can get in bed naked, read away and maybe reveal some private parts on camera from time to time.
You should also keep in mind that, sometimes, members might not know very much about SkyPrivate, so helping them get settled will also help you. It's also very important to make sure their SkyPrivate account is topped up before the show, to avoid any unpleasant situations.
That's about it for know. Got any other questions about how SkyPrivate works that you would like us to cover? Make sure you leave them below.
Stay safe!
https://blog.skyprivate.com/wp-content/uploads/2017/04/Skyprivate-Logo.png
200
200
Gabriela Tailor
http://blog.skyprivate.com/wp-content/uploads/2017/03/skyprivate-pay-per-minute-for-skype-and-phone-4.png
Gabriela Tailor
2018-10-10 09:19:13
2018-10-18 13:36:13
SkyPrivate: How to rank higher as a model. Tips & tricks