Hello, darlings and welcome back to our blog!
Today we want to talk to you about a serious matter: scammers. Yep! As long as money is involved, there will always be people who will want to take advantage of you.
There are lots of scammers who frequent cam sites in search for freebies. Most of the time, they will ask for a free show, they will promise to tip you well after you've done a show (which never happens!), or they will chargeback. If an offer sounds too good to be true, it probably is!
Although this doesn't happen a lot on SkyPrivate, there are stories of cam models who got scammed: they gave long, explicit shows in the promise of a big tip at the end, but they never received that tip.
Because we care a lot about your safety and your overall experience on our platform, we wanted to raise awareness.
So, through this blog post, we want to teach you not only how to identify scammers and how to avoid them, but also how to make sure they will never bother you again. At any given time, if a member harasses or blackmails you (saying that he knows who you are or he has pictures of you and he will tell your friends and family if you don't give him a free show), or if you simply think that an account is suspicious, please report that user immediately by using one of our official communication channels!
Now, let's dive right in, shall we?
How to identify scammers on SkyPrivate
First of all, you need to know that no SkyPrivate representative will ever ask for explicit content (pictures, live shows, etc.). They will act in a professionally manner and will only approach you for tech support via e-mail, Skype, or on the platform. So if you encounter a situation like this, you should immediately report that account using one of our official communication channels!
Most scammers who approach you on Skype pretend they are members of SkyPrivate's support team. Often times, you can tell whether someone is lying to you just by looking at their Skype ID. There are only three official accounts that the support team uses – if the Skype ID that someone who pretends to be from the support team uses does not match one of those below, for sure they are scammers and you should report that account! Of course, scammers can use many other excuses to approach you, so you should always be careful and keep an eye on any suspicious looking account.
The Official SkyPrivate Accounts are:
supportskyprivate – official support account for English

Live:skyprivate.espanol – official support account for Spanish

Live:skyprivate.rusia – official support account for Russian
Also, here is a list of scammer accounts we have identified so far:
live:skyprivatespain
skyperivatesupport
live:riv_155
live:skyprivate.moderat
sameto8001
live:skyprivate.skyprivate_1
live:administrator.skyprivate
live:skyprivate_16
live:skyprivate_19
live:skyprivate_20
live:skyprivate_21
live:skyprivate_22
live:skyprivate_23
live:skyprivate_28
Of course, there might be scammers out there that we haven't identified yet, so you should always look out for and report any suspicious looking accounts!
Besides the ID, there are also other hints that should tell you he's a scammer:
He says he is from the support team and he wants to help you broadcast, so you should do a free show for him
He says there's an issue with the SkyPrivate plugin but you are currently in a live session so you should do the show
He tells you he needs to record a nude show for you to use it on your profile
He claims that he already paid you and you should deliver
He tells you he needs to approve your account and for that he needs your name, e-mail, and password associated with your account
No member of the SkyPrivate team will ask you for this things, so if you find yourself in a situation similar to the ones above, you are dealing with a scammer! The best way to solve this problem is to report that account using our official communication channels and to block that user on Skype.
How to avoid scammers on SkyPrivate: Use the SkyPrivate plugin!
Professional scammers, however, are harder to identify. For added security, make sure you always use the SkyPrivate plugin! This plugin not only tracks your activity as a cam model so you can earn money on SkyPrivate, but it also helps you stay safe. If a member of the support team is contacting you on Skype, a blue window with the message Skyprivate Admin (just like in the picture below) will appear at the bottom-right side of your screen. If, on the contrary, a red window with the message This user is a scammer. Do NOT interact (picture below) appears, that is a known scammer account!
Blue Window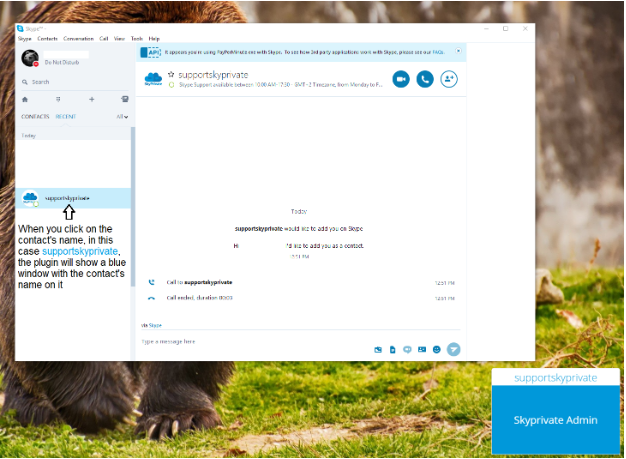 VERSUS Red Window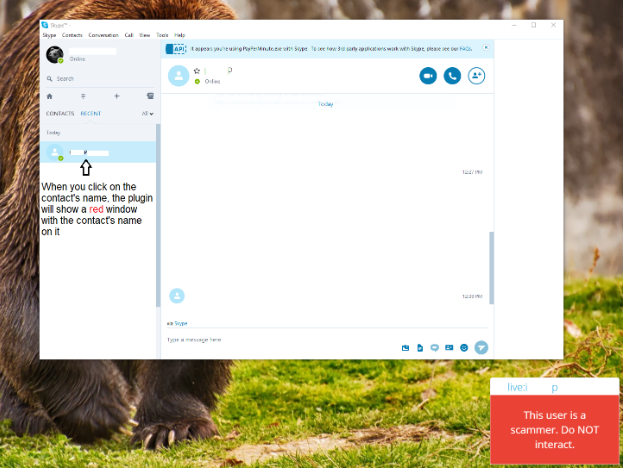 Also, we want to emphasize the fact that no SkyPrivate representative will ever blackmail you, request personal information, or ask for free shows. So if you encounter a situation like this, you should immediately report that account using one of our official communication channels!
How to report a scammer account and why is this so important!
Though most scammers will leave you alone if they don't succeed in tricking you, some might come back with another account and a more convincing story. After you have reported that account to us, you should also block that user on Skype.
You can report a user by using one of our official communication channels. This way we can register that person's Skype ID in our system and flag them as a scammer. Our official communication channels are our official support channels (in English, Spanish, or Russian) and our Twitter account. Alternatively, you can also report a scammer by issuing a new ticket.
Please bear in mind that sending us screenshots and letting us know the method they used to harass you will help us a lot!
To make a screenshot, on Windows, tap the Print Screen (sometimes labeled PrtScn) key on your keyboard. Your screenshot will not be saved as a file, but it will be copied to the clipboard, and you will need to open an image editing tool (such as Microsoft Paint), paste the screenshot in the editor and save the file from there.
On Mac, click the 'Capture Entire Screen' button in the onscreen controls. Your pointer will change to a camera. Click any screen to capture that screen, or click Capture in the onscreen controls. Use the thumbnail to markup, share, save, or take other actions.
That's all ladies. Until next time, stay safe!
https://blog.skyprivate.com/wp-content/uploads/2018/10/bed-blonde-computer-6524.jpg
1271
1920
Gabriela Tailor
http://blog.skyprivate.com/wp-content/uploads/2017/03/skyprivate-pay-per-minute-for-skype-and-phone-4.png
Gabriela Tailor
2018-10-31 12:27:57
2018-10-31 12:27:57
How to avoid scammers on SkyPrivate