How Pay-Per-Minute works and the advantages of this payment method
At SkyPrivate, we are known for our Pay-Per-Minute technology that enables our users to enjoy Live Skype Shows and only pay for what they watch. If you don't know what Pay-Per-Minute is and why you should use this payment method, here are the top reasons to start using it right now!
The advantages of using the Pay-Per-Minute payment method on SkyPrivate
1. Pay as you go
By using the Pay-Per-Minute method, you only pay for what you watch, unlike with the prepaid method, where once your money is gone, it's gone for good! That's why I would strongly advise you that, if you really want to use prepay as a payment method, only pay in advance models you have already interacted with in the past. You wouldn't want to pay for a show you might never get, right?
Let's say you are savoring a show, and you hear your wife/girlfriend entering the house. You've only enjoyed 2 or 3 minutes so far. Wouldn't it be better if you only paid for those minutes, instead of the whole 30 minutes show that you didn't get to enjoy?
2. Easy to end a call anytime you want
I'm sure you went at least once on a date with someone you met online, and that person turned up to look completely different. Tough luck! But did you go on with the date? I know I wouldn't! The same goes for our platform: why should you pay for a show if the model looks completely different from the profile photos/videos? If you're not enjoying the show, it's your right to go and find another model!
The image or sound quality does not match your expectations? The model looks different than what you saw on the profile? Is the show not to your liking? You can leave whenever you want, and you don't have to pay anything extra!
3. Privacy & security
Skype calls and chat are secured; no one will ever peep into your conversation with the model – it's just you and the model! We never share your details with anyone (and I advise you not to share sensitive personal data or media with the models either), so you can rest assured that your secret is always safe with us!
Also, your bank statement will look something like this:
4. Top up once & pay many
You don't need to add funds each time you want to make a call. SkyPrivate allows you to use your account as an e-wallet. You can add money once a month for example, and enjoy live shows whenever you want.
Best things in life are unplanned! Let's say you planned a 20 minutes show for the weekend, but you are having so much fun that you don't even realize when the time passes. Do you want to be suddenly interrupted right when things were getting interesting? Or do you want to keep watching? See? Yet another reason to choose Pay-Per-Minute!
5. Nothing to install
Noupe, there's absolutely nothing you have to install if you want to enjoy Pay-Per-Minute Skype Shows. Everything has already been taken care of! All you have to do is pick your favorite model, sit back, relax, and enjoy your private show! Oh, and did I mention that you can watch shows on your phone or tablet as well? Well, you can!
6. No additional fees
There are no additional fees associated with the Pay-Per-Minute method – every inside transaction you make is free of charge!
Any transactions that you make using the payment methods provided by SkyPrivate have no additional fees attached.
How to enjoy Pay-Per-Minute Skype Shows
You can enjoy Pay-Per-Minute Skype Shows from any device that runs Skype as there's nothing to install and the funds are automatically transferred from your account.
1. Register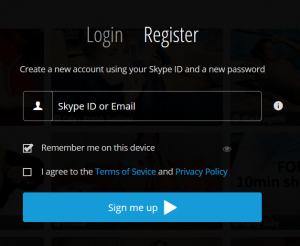 If you don't have a SkyPrivate account already, you can sign up here: accounts.skyprivate.com.
Make sure that your account is set up correctly; otherwise, you will not be able to call models! The Skype ID you used to create your SkyPrivate account should be the same as the one you use to make the calls, or it will not work!
Please set up your account with an email address that you check at least once a week. I promise we won't spam you, but it's important that you are informed about any adjustments and improvements to our services. Also, we will use this email to get in contact with you in case you signal any issues with models you had calls with.
2. Load your account with funds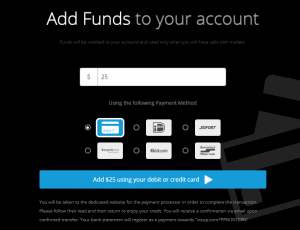 After you have created your account, it's time to add money. You can use multiple payment methods: Credit Card, Debit Card, Mastercard, VISA, AMEX, iDEAL, SOFORT, Paysafe Card, Bitcoin, Bancontact Mister Cash, Paxum, or Payza.
The minimum amount you can load your account with is $14. However, before making a call, you should also check the model's pay rate and make sure you have funds for at least a 5-minute long call. For example, if the model has a Pay-Per-Minute rate of $3, your account should be loaded with at least $3 x 5 minutes = $15. With that being said, most of our members add about $25 – $30 to their account – the equivalent of a dinner for one at an average restaurant.
Keep in mind that models know whether you have funds or not, so you should not expect them to answer if you don't have any!
Search for your desired model
If you don't already have someone in mind, it's time to start searching for a model. Head to the SkyPrivate models' profiles page and find the one that is your type.
4. Chat a little
First, we encourage you to chat with the model on Skype to see whether she is available for a call. If she is, this would be the perfect time to share your kinky fantasies and find out what turns her on, so she can prepare for the show.
5. Time to make the call
Before you make a call, you should always check that you have enough funds in your account for the show you had planned and you are logged in with your dedicated Skype ID!
If the model answers, you will receive a message in the Skype chat confirming the Pay-Per-Minute rate that she's charging you with.
If the model does not answer or she rejects the call, it could be because your account has not been verified, you don't have enough funds, or she's simply not available for the moment. You can schedule a show with her later. Look for the "Schedule a Show" button on her profile and plan your show!
6. Are you enjoying your call?
The most important thing I want you to remember when you are making a call on SkyPrivate is to enjoy your experience! With that being said, if the model or the show is not to your liking, you can leave anytime you want!
If your call gets interrupted, here are a few possible reasons:
The Internet connection went down (either for you or the model)
You ran out of funds (however, we are currently working on a feature that will notify you minutes before you run out of funds)
There are technical issues with your device, Skype or the plugin. If such issues come up often, I encourage you to get in touch with us at support.skyprivate.com.
7. After the call
Once the show is over, you will receive an email with the amount you have invested in your less than guilty pleasure (one more reason to use an email you check at least once a week for your SkyPrivate profile) and another one inviting you to rate the model you had a show with. Should you encounter any technical difficulties, we encourage you to share them with us at support.skyprivate.com by issuing a new ticket.
https://blog.skyprivate.com/wp-content/uploads/2018/09/avantages_payment_method.png
512
1024
Johnny Private
http://blog.skyprivate.com/wp-content/uploads/2017/03/skyprivate-pay-per-minute-for-skype-and-phone-4.png
Johnny Private
2018-09-06 17:19:08
2020-03-30 11:33:26
How Pay-Per-Minute works and the advantages of this payment method