You asked for this functionality and we listened. Starting a couple of weeks ago, we introduced the tipping functionality for private Skype shows.
Many of our users have asked for this functionality over time and we have been working hard to make it a reality. This will be just one of the first new updates, in a long line of improvements that will be coming to SkyPrivate in the next couple of months.
How does it work?
Any model that has a good profile and is in good standing with SkyPrivate will have access to this feature. When a call is started, members will receive an automated message that will notify them about this new functionality and how to use it. If the message isn't triggered automatically, you should contact our support team in order to resolve any possible issues.
After the automated prompt, members can begin sending tips by typing the !tip shortcode and adding a sum, for example:
!tip 100
This will send 100 cents to the model. Note: All the tips are calculate in CENTS not in dollars. We have opted for this solution because we wanted to give full control to members regarding how much they want to tip at a given time. You can see some of the basic functionality in the GIF below.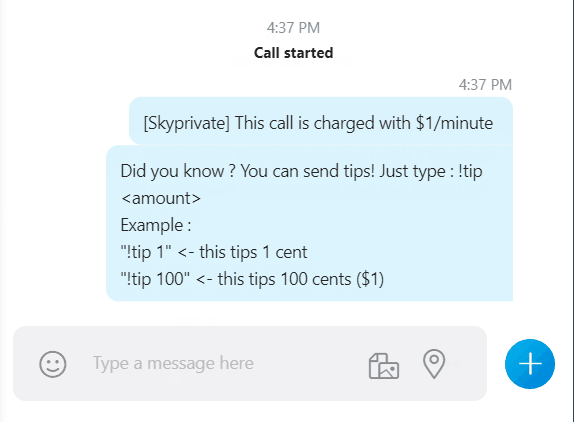 Both members and models will receive a notification that the tip was sent and received. All the tips will go out directly from the member's SkyPrivate account. As long as the member has money in his account, they will be able to use this feature.
For the time being, there are no limits on either how much or how little can be sent in a tip. Along with that, the tipping functionality is limited to live Skype shows.
We are looking to also add audio notifications that will vary depending on the size of the tips. If you have any other suggestions regarding how we could expand this functionality  don't hesitate to let us know on social media or via the form listed at the end of this article.
What does this mean for you
As a model, you will have the opportunity to educate your members to take advantage of this feature, and make sure that you get the attention that you deserve.
As a member, you are now able to tip your favorite models during some awesome shows and give them the appreciation that they deserve.
We are really excited to start offering this new feature as our purpose was and still remains that of bringing models and members that much closer.
In conclusion, we would be more than happy to hear your opinions about this feature. We would love to hear how will you use it as a model, what would you like to see added as a member and any other crazy ideas that you might have. If you want to help, please do complete the form listed below.
http://blog.skyprivate.com/wp-content/uploads/2018/11/skyprivate-how-to-tips_blog.png
321
845
andrew
http://blog.skyprivate.com/wp-content/uploads/2017/03/skyprivate-pay-per-minute-for-skype-and-phone-4.png
andrew
2018-12-07 17:26:23
2018-12-07 17:26:23
You Can Now Send and Receive Tips on SkyPrivate